Teaser Tuesday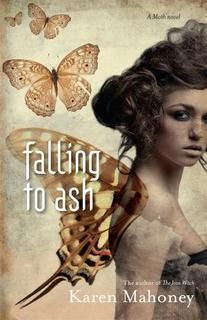 Falling To Ash
by Karen Mahoney
Publication Date: 27th September 2012
"Smith tried a tentative smile. 'We're hoping you can help us with an investigation.'
The cops were taking up the only two chairs at the table, so I moved to the windowsill and sat down, removing my leather jacket and laying it down as a substitute cushion first."

~ Pg. 9, 'Falling to Ash' by Karen Mahoney.
Top Ten "Older" Books You Don't Want People To Forget About
This week's topic is 'Top Ten "Older" Books You Don't Want People To Forget About'. Older can be anything you decide, as long as it's not new release, the choice is up to you.
1. Pride and Prejudice by Jane Austen

(First Published 1813)
Though I think there's little doubt of anyone forgetting this book, I had to include it on my list. I love this book and have read it several times. I definitely don't want it to be forgotten.
2. Caleb's Crossing by Geraldine Brooks
(First Published 2011)
Geraldine Brooks is a fabulous author. I've yet to read any of her other novels but I've heard really good things.

3. Redeeming Love by Francine Rivers

(First Published 1991)
I'm not Christian but I still really liked this book. The story was of love (duh) and redemption (double-duh), it was a lovely story.

4. Eragon by Christopher Paolini

(First Published 2003)
Don't let the movie ruin this for you! I really enjoyed this series and have yet to read the last book, but the movie was just... bad.
5. On the Jellicoe Road by Melina Marchetta
(First Published 2006)
I love Melina Marchetta. All her books are great but On the Jellicoe Road is my favourite.
6. One for the Money by Janet Evanovich

(First Published 1994)


The Stephanie Plum series is hilarious! One for the Money is of course the first in the series and I would recommend it to any-and-every-one!
7. Obernewtyn by Isobelle Carmody

(First Published 1987)


The Obernewtyn Chronicles has been going on for many years now with the final book set to be released next year. I haven't read the latest book yet but this series is good.
8. Inkheart by Cornelia Funke

(First Published 2003)


Again, this is another book you should not judge by it's movie. I loved this book, the act of reading aloud things from books, bringing them to life, it was amazing. I've always wished I had the power to read myself into a book, it would be magical.
9. Anything by David Eddings

(Published from 1973 - 2006)
I've always been fond of fantasy and David Eddings is just amazing. I first read his 'Belgariad' series when I was 12 and I loved it then, I still do! His worlds and people are brilliant and it was so sad when he passed away in 2009. I really hope his books aren't forgotten.
10. A Company of Swans by Eva Ibbotson

(First Published 1985)
This is the book I have sitting on my shelf for when I'm in need of a bit of sunshine. I have read this book so many times yet I still love it to bits. I'm not sure what exactly about it I love so much, it's just my go to book when I'm in need of a little bit of familiarity and warmth and love. I love all of Eva Ibbotson's books, but this is my favourite.

There we go! I have books ranging from 1813 to 2011, there's a slight age gap there but the quality of books is amazing!
Are there any books you would add to the list? Any you disagree with/agree with? Please let me know in the comments below. (I'm well aware that rhymed. I thought it sounded cool)