So as you have probably guessed from the title.. I have over 100 followers now! This is very exciting so I'm having a giveaway, well
two
actually, to celebrate.
The first one is Australia only as I'm giving away a book from my bookshelf, the second is International and the winner will get there choice of book from The Book Depository as long as it's under $12AUD and TBD ships free to their country.
Here's my Giveaway Button, if anyone wants to put it on there site. :)
*new* PLUS: I will give an EXTRA 10 ENTRIES if you add my giveaway button to your site and/or blog about it (if you do both you get 20 entries, easy-peasy!). Just comment with a link to your site/post and I'll add in your points at the end! Cheers!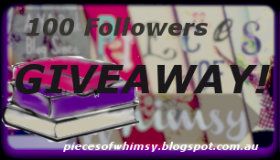 -The Iron Knight by Julie Kagawa (The Iron Fey #4)
-paperback, duplicate copy
- Sweetly by Jackson Pearce (Fairytale Retellings #2)
-hardback, duplicate copy
-Alice in Zombieland by Gena Showalter (The White Rabbit Chronicles #1)
-ARC paperback, read
~my review
-What's Left of Me by Kat Zhang (The Hybrid Chronicles #1)
- ARC paperback, read
~my review

-Final Friends Volume Two: The Dance Part 2 & The Graduation by Christopher Pike - paperback
I haven't read anything by Christopher Pike and I want to but it'd be easier fro me to just get the books out from the library and I'm sure someone would love this a lot more than I do.
The Final Friends series is made up of 3 books and then they were made into two volumes with a break at the halfway mark of book 2. I've heard that the break is good and isn't weird or awkward so it should be good!
-The Good Daughter by Amra Pajalic
- paperback, read
I read this once several years ago and it just wasn't the right book for me. It was well written and the book was a good story, my Nan actually really enjoyed it! The main character just made too many silly mistakes for me to really like her. It may have been the fact I was so young and couldn't comprehend how someone could make such crazy mistakes, I think I would enjoy it a whole lot more now though her mistakes are still as silly. I'm sure someone else would love this book!
-Imaginary Girls by Nova Ren Suma
- paperback
I won a copy of this book without realising I'd already bought it a while ago (the different covers threw me off) so if the winner would like this book then they can choose which copy they'd prefer! But please note that the book with the light blue cover and the falling/floating girl has a black marker line along the bottom of it's pages. (I'll upload a pic later)
-Fallen by Lauren Kate (Fallen #1)
-
paperback, read
*All the 'read' books are still in good or great condition.
AUSTRALIA ONLY
a Rafflecopter giveaway
INTERNATIONAL
a Rafflecopter giveaway
You can also get a bonus 10 entries if you correctly guess the number of books I used to make my book tree.
*Hint: I used somewhere between 112 & 184 books.