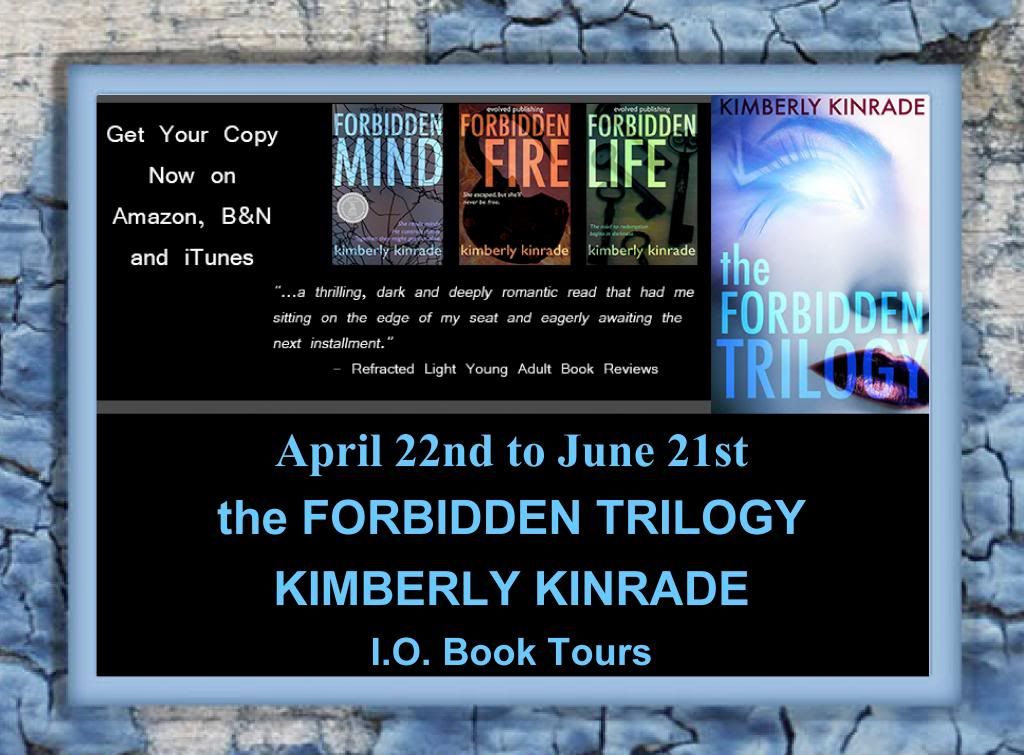 Forbidden Mind (The Forbidden Trilogy #1) by Kimberly Kinrade
Series:
The Forbidden Trilogy #1
Author:
Kimberly Kinrade
Published:
6th Septemberh 2011 by Daring Books
Source:
E-copy from the author for an honest review
She reads minds.
He controls minds.
Together, they might get out alive.
49% of Americans believe their government officials are honest. I don't know these officials, or their supporters, but I know their secrets, and 49% of Americans are wrong.
My employers pay me well to be right, to know things others can't. But I don't know why they brought that boy in, strapped to a stretcher, barely conscious. He asked me for help when I could give none.
I'm a wealthy spy, a talented artist, a martial arts black belt, and a prisoner. They tell me that on my eighteenth birthday, I will be released, free to go to the college of my dreams. It's my eighteenth birthday, and a man in black is at my door. I know he's not here to free me.
I know, because I can read minds.
My name is Sam, and this is my story.
So begins the tale of Sam and Drake--from the time they link minds, forging a bond that leads to an unconventional romance--to their fight for survival against the corrupt, twisted organization known as 'Rent-A-Kid.'
"...a thrilling, dark and deeply romantic read that had me sitting on the edge of my seat and eagerly awaiting the next installment."
~ Refracted Light Young Adult Book Reviews
"The plot is very ALIAS and DARK ANGEL-like with X-MEN as its backdrop (awesome combo!). Forbidden Mind BLEW my mind!"
~Sour Skittles Book Blog
Winner of 2011 Forward National Literature Award
Forbidden Mind wasn't at all what I expected. Firstly, the relationship between Sam and Drake was so different from anything else I've read and I was really impressed with emotional connection they made from just each others thoughts.
This book is mostly told in Sam's POV, but Drake does get a few chapters for himself (more so in the beginning) and I enjoyed seeing into Drake's life, especially all the different relationships he had with people. It was nice to get to know him and feel his passions and dreams as well as Sam's.
I don't mind predictable books, as long as the writing is good and the story has some unique qualities, but books that keep me guessing I really, really like. Forbidden Mind wasn't just a new, exciting idea but it also had a lot of unexpected twists and turns and I really enjoyed that!
The writing in this book was good and I was easily taken in by the story. Though there wasn't all that much action the book seemed to flow quite quickly with not so much taking place. I would've liked the book to be longer so it could step back and give more of a background/introduction before jumping into the plot, however I still really enjoyed the story and am keen to know more. I look forward to reading the rest of the books in the series.
3.5/5 Whales
Author Bio - Kimberly Kinrade
Kimberly Kinrade was born with ink in her veins and magic in her heart. She writes fantasy and paranormal stories for children, YA and adults and still believes in magic worlds. Check out her YA paranormal novels Forbidden Mind and Forbidden Fire and her illustrated children's fantasy chapter books Lexie World, and Bella World, all on Amazon.
She lives with her three little girls who think they're ninja princesses with super powers, her two dogs who think they're humans and her husband, also known as the sexy Russian Prince, who is the love of her life and writing partner.
For a list of her books, check out:
http://Amazon.com/author/kimberlykinrade
For a fun fan experience, check out:
http://IPIAcademy.com
For kids and parents of young kids, join the Lost Kids at:
http://ThreeLostKids.com
Signed hardback of The Forbidden Trilogy by Kimberly Kinrade + signed bookmark & postcard
5 signed Forbidden Trilogy postcards.
a Rafflecopter giveaway