Guest Post with Ros Baxter
My mother always said it was important to make a good first impression. She'd remind us how quickly they were formed, and how long they took to undo. Of course, she was probably thinking less about writing novels and more about her kids washing their faces, minding their manners and generally not acting like animals. But every time I think about her sage advice, my thoughts turn to The Hero.
You see, I'm a big believer that characters, especially heroes, should make a grand entrance. After all, we readers need a way of knowing they're The Guy, right?
Of course, if you're a mysterious badass merman from a magical underwater kingdom, you're going to make an impression anyway. This kind of impression:
The mildewy pink curtain billowed forward and a large shape crashed to the floor, right between Missy and me, wrapped in the voluminous plastic. Missy screamed.
My heart tapped out a tango and one hand went to my Glock without any conscious command as I tried to disentangle the curtain from the lumpy shape.
As I pulled it free, I had one of those moments. You know the ones. Where everything slows down and you know that for the rest of your life you'll be able to describe it in vivid technicolor. Like the time I turned on the tv and saw that plane crashing into the towers.
He was almost supernaturally beautiful. And naked. A long trickle of thick red blood ran from the side of one temple down to a graceful jaw.
And he was lying on the floor half in and half out of Missy's teeming shower.
Had he been there, in the shower, the whole time?
"Sweet Jesus," Missy whistled, clearly impressed as she studied the region I was studiously avoiding. As beautiful as he was, it didn't seem right to be copping an eyeful.
Especially when he seemed to be in pretty bad shape.
He was long and lean, dark blonde and strong like a runner. Golden hair glistened on his wet, brown body, but he was curled like a fetus and moaning softly. Something about the sight of him, which should have screamed "get the pervert outta here", touched me right down inside. Right down in my belly. And lower. I wanted to cover him up. I wanted to help him. And some parts of me wanted to do other things too, but I wasn't giving them any airtime
.
Now trust me, first impressions aren't all that are HOT between these two. I had a whole load of fun helping the sparks fly between my bad boy merman and my kickass human-mermaid hybrid heroine Rania. He may have a lot on his plate, but her life is no walk in the park either. She's a living on The Land, working as a cop,
unravelling a ten thousand year old mystery and muddling through a wild love triangle at the same time.
Rania made a vivid impression on me as well, from the first time she wandered into my mind and introduced herself:
Mermaids don't wear nicotine patches. They don't drink Southern Comfort from a hip flask, inhale twinkies or watch Dr Phil. Mermaids don't pack heat. And mermaids definitely don't get their hearts broken by tattooed guys who look like pirates. In fact, mermaids have always been kinda down on pirates... but that's another story. The cardinal rule is this: mermaids don't live in bone-dry frontier towns. Ever.
But here's the thing. Me, I don't leave home without my patches, hip flask and Glock. My last moment of true moderation was back in kindergarten, when I stopped myself from using my awesome strength to rip Jamie Kennedy's pecker off when he waved it at Julie Casey in the bathroom and made her cry. And don't even start me on my penchant for pirates.
But I am, in fact, a mermaid. So go figure.
Speaking of first impressions, Escape Publishing has also made a stellar party entrance in the last year, quickly earning a reputation for swoon-worthy covers, high quality digital stories and knockout debut authors.
I hope you drop by and discover us soon, and maybe introduce yourself to a mermaid or two while you're at it.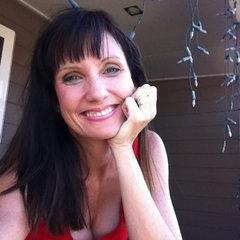 Ros writes fresh, funny, genre-busting fiction. She digs feisty heroines, quirky families, heroes to make you sigh and tingle, and a dash of fantasy from time to time. Ros has published Sister Pact (a romantic comedy co-written with her sister Ali) with Harper Collins, and Fish Out of Water and White Christmas with Escape Publishing. She has sequels to Sister Pact and Fish Out of Water coming out in 2014, as well as a new single title romantic comedy: Lingerie for Felons.
Ros also runs a successful business consulting to government and the private sector. She teaches professional writing skills and has authored a writing guide, Clarity.
Ros lives in Brisbane, Australia, with her husband Blair, four small but very opinionated children, a neurotic dog and nine billion germs.
Ros loves to hear from readers. You can email her at rosbaxterink@gmail.com or find her on Facebook, Twitter @RosBaxter, or on her website.
Fish Out of Water (#1 of a trilogy) by Ros Baxter
Published: 1st April 2013 by Escape Publishing
"It's Janet Evanovich's Stephanie Plum meets Splash in a sexy, smart-talking debut about a mermaid in a desert, a city under water, and the secret that no-one is supposed to uncover."
Dirtwater's straight-talking Deputy Sheriff has a lot on her plate: a nicotine addiction that's a serious liability for a mermaid, a solider-of-fortune ex who's hooked on her Mom's brownies, a gorgeous, naked stranger in her shower, and a mysterious dead blonde with a fish tattoo on Main Street.
Oh, and one other thing.
She's scheduled to die on her thirtieth birthday - in three weeks - unless she can 'change the course of destiny and save the world entire'. Throw in a Mom who's the local Mayor and a Dad who's been locked in the county jail for twelve years, and that's all the trouble she needs without her mermaid roots coming back to haunt her.
Rania's heading home to Aegira for a family wedding but she's starting to have a sinking feeling that's got nothing to do with hydroporting seven miles under the sea and everything to do with some weird connections that seem to be emerging between her, the dead blonde, her Mom's shady past and a ten thousand year old prophesy. Now if she can just steal a corpse, get a crazy Aegirian priest off her case, work out who the hell's trying to kill her and stop sleeping with the fishes, she might be able to unravel the prophesy, the mystery of the missing choirgirls and the secrets hidden in her Mom's past. And maybe even save her own ass while she's at it.
Giveaway
One e-copy of Fish Out of Water by Ros Baxter
-International
-Ends 27th November 2013
a Rafflecopter giveaway