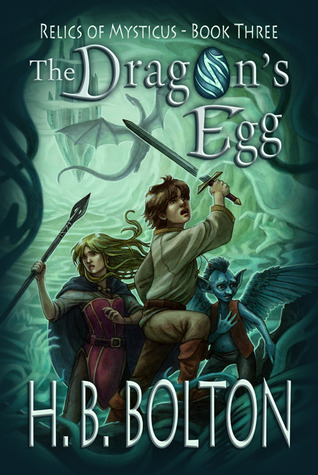 The Dragon's Egg (Relics of Mysticus #3) by H.B. Bolton
Sure, the glass castle floating over Evan's head makes him uneasy, but that's the least of his worries. With each step inside the Dungeon of Dreadful Dreams, he must battle against his worst nightmares. One after the other, wispy smoke-filled bull sharks come at him — he must remember they're only illusions pulled from his imagination by those dreaded shadowlike hands. If only the vengeful dragon circling above was also an illusion and didn't have his mind set on destroying the one person who can control him: Emrys.
Inside the castle's glass tower, Emrys sleeps in an eternal slumber, and Evan's uncertain whether he can save the great wizard. Especially now that Emrys' former student, the Lady of the Lake, has joined forces with the cunning immortal Alamaz. Together they have already stolen the Dragon's Egg, but their greed doesn't end there. The Siren's Pearl calls to them, and that means only one thing … Atlantis is in trouble.
Join Evan, Claire, and Dunkle — along with a few other unlikely heroes — as they travel across the realm of Medieval Legends, float through the Ancient Isle of Avalon, plunge inside the Dungeon of Dreadful Dreams, and be there when Atlantis rises once again.

The Serpent's Ring (Relics of Mysticus #1) by H.B. Bolton
Evan and Claire Jones are typical teenagers, forced to go with their parents to yet another boring museum … that is, until something extraordinary happens to make their day a little more than interesting. After following a strange little creature into a closed exhibit, Evan and his older sister, Claire, discover the Serpent's Ring, one of the magical relics formed from the shattered Mysticus Orb. Purely by accident, they have awakened its powers and opened a portal to Sagaas, land of ancient gods.
Before the siblings can comprehend what has happened, the Serpent's Ring is wrenched from Evan's hand by an enormous fish and flown back to Aegir, the Norse god of the sea. Evan and Claire, accompanied by a band of unlikely heroes, must retrieve the Serpent's Ring before Aegir uses its immense powers to flood all the lands on Earth.
The Trickster's Totem (Relics of Mysticus #2) by H.B. Bolton
Life has returned to normal for fourteen-year-old Evan and his older sister, Claire. That is until Dunkle, a clever but stinky little imp, pays an unexpected visit to their school. He has come to take the siblings back to Sagaas, the mythical realm of the gods. Once again, a Relic from the ancient Mysticus Orb has fallen into the wrong hands. Only Evan and Claire, with their unique mystical abilities, can help find it.
Through the power of the Trickster's Totem, a coyote trickster has escaped. His laughter echoes throughout the realm, as he spreads mischief and mayhem. He burns an entire crop of popcorn, carves his grinning image into sacred artifacts, and things really get interesting when he shape-shifts into Evan's friends.
Claire and Evan must capture the Trickster, retrieve the Totem, and be careful not to become sidetracked by robotic Steampunk animals, "sweet" pixie-like Pains, and a problematic mermaid … all while dodging Mothman-like aces. Most surprising, Evan discovers the true reason dragons exist in the Native American Spirit World.
Guest Post by H.B. Bolton
Top Five - Things I Didn't Know About My Book
One would think that, this being the third book in the series, I would already know everything about my characters. But that isn't always the case. My characters tend to have minds of their own and like to sneak interesting bits into the story. Sometimes I'm as shocked as anyone else when this happens.
1. At the point when Evan and Claire meet the king of the Fae, Gwyn ap Nudd, I knew relatively little about the Four Treasures of Sovereignty. I later learned these treasures were gifted to the mortal realm from four otherworldly cities and are considered the greatest of Faerie symbols. From the north came the stone of Fal; from the east came the spear of Lugh; from the south came Nuada's sword; and from the west came the cauldron of plenty and regeneration. As it turned out, Nuada's sword and the spear of Lugh proved to be the perfect weapons for Evan and Claire to use while in the Dungeon of Dreadful Dreams. You can see these two treasures on the front cover of my book.
2. The original plan was to have Evan, Claire, and Dunkle travel through the Dungeon of Dreadful Dreams on their own; however, Gwyn ap Nudd had something else in mind. He sent an annoying, riddle-talking faerie along to "help" guide them. I came up with his name, Bracken, when I stumbled upon a fairy name generating site: http://fairy.namegeneratorfun.com/
I entered my name and out popped Bracken Pepperwitch.
3. While in the glass tower, Evan practically stumbles over a glass fox. This fox's personality showed so brightly that he came to life. I can honestly say that I hadn't planned to add another character to the story, as well as to the next book. He happens to be the perfect sidekick for Evan and Claire: valiant, brave, loyal, caring, and humorous. He reminds me a little of the courageous mouse, Reepicheep, from The Chronicles of Narnia.
4. As I researched Plato's vision of Atlantis, I discovered that elephants roamed freely across the island. That struck me as odd, and I knew I had to incorporate it into The Dragon's Egg. The guardian of the Siren's Pearl is now a calf-size elephant named Remo. I imagine that he wears a burgundy-colored vest that flaps in the breeze as he stomps across the ground with his mighty — albeit tiny — feet.
5. Most important, albeit covertly, are the many curious facets to Dunkle's past. Let me just say that families are interwoven in an interesting way, and many secrets come to the surface in this book — a few of which surprised even me.
Illustrations are from The Dragon's Egg
A magical part of H.B. Bolton's childhood was being swept into worlds of enchanting
characters, fantastical creatures and extraordinary powers—simply by picking up a book. As a mother and a teacher, she was compelled to create imaginary worlds of her own in order to share them, not just with her children, but with all children. H.B. Bolton lives in Florida with her supportive husband and two highly spirited children. Shh, can you keep a secret? Not only does she write books for the young-at-heart, adventurous sort who yearn to dive into a good young-adult fantasy story, she also writes spellbinding, heart pounding women's fiction. These particular books are written under the name Barbara Brooke, but that's another story, altogether.
a Rafflecopter giveaway