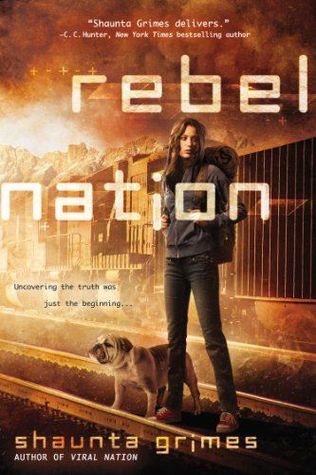 Rebel Nation (Viral Nation #2) by Shaunta Grimes
Published: 1st July 2014 by Berkeley Trade
Sixteen years ago, a plague wiped out nearly all of humanity. The Company's vaccine stopped the virus's spread, but society was irrevocably changed. Those remaining live behind impenetrable city walls, taking daily doses of virus suppressant and relying on The Company for continued protection. They don't realize that everything they've been told is a lie…
Clover Donovan didn't set out to start a revolution—quiet, autistic, and brilliant, she's always followed the rules. But that was before they forced her into service for the Time Mariners. Before they condemned her brother to death, compelling him to flee the city to survive. Before she discovered terrifying secrets about The Company.
Clover and the Freaks, her ragtag resistance group, are doing their best to spread the rebellion and stay under The Company's radar. But when their hideout is discovered, they are forced, once again, to run. Only this time, The Company has special plans for Clover, plans that could risk her life and stop the uprising in its tracks…
Amazon - Barnes & Noble
Goodreads
Guest Post by Shaunta Grimes
What I Love About Writing Sci-Fi
Science fiction is so fun to write. I love being able to build my own world. I love that I don't have to research history, or at least not at the level I would if I were writing about a historical time period instead of the future.
I'm really fascinated by the way that the world has moved into the future. When I was a kid, in the 80s, anything that talked about the future showed things like flying cars and vacations in space. It showed the world getting bigger. The reality is, though, that the world has gotten smaller. Instead of making bigger and better things, the smart people started making things smaller. Computers that fit in your pocket. Cars that you could drive around a golf course. Okay, so there are space vacations for the very, very wealthy, but we're not really moving toward a Jetsons world.
The Viral Nation series is futuristic, but it takes away the technological advances that have happened over the last century or so, for the most part. It shrinks the world though, but in a different way than is happening in real life right now. Instead of having the whole world at your fingertips, on your cell phone, Clover and West's whole world is their city, within their walls. The rest of the world has gone back to what it used to be—far away and unavailable to most people.
I really wanted to think about a post-post apocalyptic future that might actually happen. I think that once the fear and frenzy of something catastrophic happened had passed, people would ban together. Especially if there were as few survivors as there are in my books. I think that it's entirely possible that an enterprising man could take over the world in a situation like this. I think that the US really would try to hold on to all of it's real estate by keeping people in each state. Time travel in a submarine might be a stretch of the imagination, though!
I guess what I love most about writing science fiction is that I get to stretch my creativity, within the confines of what's real and what isn't, or what could be real with a little bit of suspended disbelief. My challenge, to myself, was to create a world that would leave readers wondering if the things that happened in it could really happen.
Author Bio - Stacey Marie Brown
Shaunta Grimes has worked as a substitute teacher, a newspaper reporter, a drug court counselor, and a vintage clothing seller. No matter which direction she strays, however, she always comes back to storytelling. She lives in Reno with her family, where she writes, teaches, and perpetually studies at the University of Nevada. Viral Nation is her debut traditionally-published novel.
Catch the rest of the TOUR HERE!
Giveaway
5x finished copies of Rebel Nation
-International
-Ends 6th July 2014
a Rafflecopter giveaway