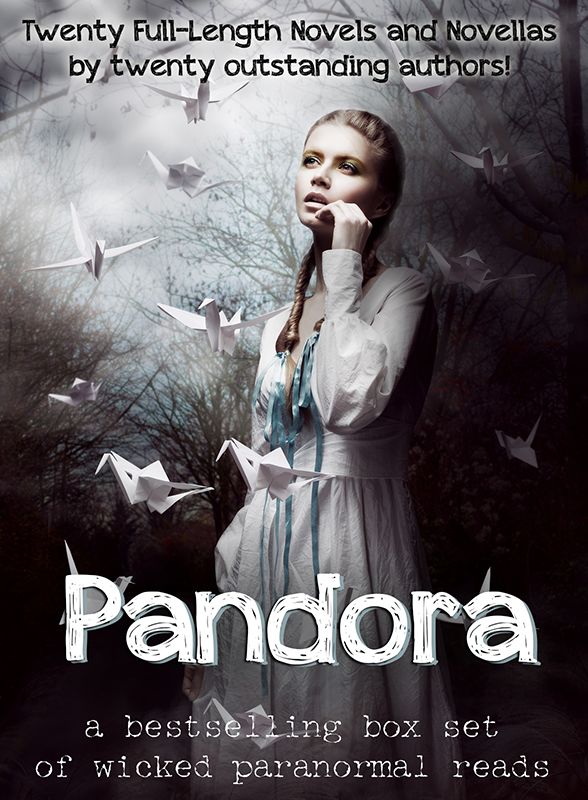 Pandora Boxed Set
Paranormal
Published: 5th August 2014
*TWENTY COMPLETE FULL-LENGTH NOVELS AND NOVELLAS FOR $0.99! NO CLIFFHANGERS!*
Do you dare open the box?
Whether you love paranormal in the form of romance, suspense, mystery, horror, or fantasy, this box set will have something to entice your preternatural sensibilities. Supernaturally thrilling and engaging, this box set has it all: ghosts, vampires, mind-readers, shape-shifters, demons, faeries, werewolves, and more.
For a limited time, you can enjoy books from today's New York Times, USA Today, Amazon and Barnes & Noble bestselling authors and many more. We have everything from titles that are slated for the big screen to stories from Pulitzer Prize and Bram Stoker Award Nominees! When purchased separately, these books cost over $50! But they are your's today for less than $1.
Professionally formatted, no cliffhangers, and no short stories. Every selection in this rare, limited edition paranormal box set are full-length novels and novellas! A few are "First in Series," but we carefully selected only those which can still be enjoyed as a standalone!
Riley J Ford, New York Times and USA Today Bestselling Author: INTO YOU
Rebecca Hamilton, Amazon Best-Selling and Film-Optioned Novelist: HER SWEETEST DOWNFALL
Apryl Baker, Amazon Best-Selling and Film-Optioned Novelist: THE AWAKENING
Carole Lanham, Amazon Best-Selling Author and Bram Stoker Award Nominee: CLEOPATRA'S NEEDLE
Thomas Sullivan, Pulitzer Prize Nominee: THE WATER WOLF
Rainy Kaye, Amazon Best-Selling Author: SUMMONED
Laura Howard, Amazon Best-Selling Author: THE FORGOTTEN ONES
Noree Cosper, B.R.A.G. Medallion Honoree: A PRESCRIPTION FOR DELIRIUM
Louise Caiola, Amazon Best-Selling Author: WHAT TRULY KNOWS
Kelley Anne Blount, Amazon Best-Selling Author: SHADE
Susan Stec, Amazon Best-Selling Author: DEAD GIRLS NEVER SHUT UP
Christi Goddard, Amazon Best-Selling Author: FOUR IN THE MORNING
Steven Katriel, Amazon Best-Selling Author: THE PORTRAIT OF ALATIEL SALAZAR
Heather Kenealy, winner of MTV's "Stan Lee presents the Seekers" contest and Cinescape's Short Story
Contest: THE TRAITORS' TRILOGY
Peter Dawes, Blogger Book Fair Reader's Choice Award winner: EYES OF THE SEER
DelSheree Gladden, Amazon Best-Selling Author: INVISIBLE
with…
Angela Fristoe: LIE TO ME
Conner Kressley: THE BREAKER'S CODE
Samantha LaFantasie: MADE TO FORGET
Rachel Walter: TRUE CONNECTION
Save over $50! This set is only available at this price for a limited time, so order your copy before it's gone!
Excerpt from The Forgotten Ones by Laura Howard
We're going to the beach tomorrow," Nicole said.
"Have fun," I mumbled.
She wiped her lips with a napkin and narrowed her eyes at me. "You're coming." I opened my mouth to argue, but she held a slender finger up at me and pursed her lips. "It's the first Saturday you've had off in months. School's over, at least for the summer. You're coming."
I sighed and looked up at the pattern of our umbrella. "You really know how to ruin a perfectly good sundae."
Her eyes shot daggers at me. "We'll have a great time, Al." Her expression changed as she seemed to change tactics. Her green eyes widened and her lip stuck out just the tiniest bit.
Cranky Nicole was a challenge, but pouting Nicole was impossible.
"Fine," I sighed. "We're going to the beach." I looked at my sundae, which had made me so happy a minute earlier and a thought came to me. She hadn't said anyone else was coming, but Nicole and her boyfriend Jeff were practically inseparable. "Wait, who else is going?"
Nicole grinned, clearly smelling her victory. "The usual crew: Jeff, Rachel, Sean and"—her eyebrows inched up—"Ethan."
I nodded, trying to breathe evenly. I hated the way my pulse spiked at just the mention of his name. Handsome, cocky Ethan. His smile had the power to break down every one of my defenses. But, I didn't have space in my life for that. I had a plan—to focus on taking care of my mom. My grandparents had done it by themselves for long enough. I needed to find a way to help, to unburden them. That was my priority. But Ethan…he was so hard to resist sometimes.
An e-copy of the Pandora Boxed Set (EPUB, MOBI or PDF)
-International
-Ends 9th September 2014
a Rafflecopter giveaway