I can't believe it, today is my two year blogoversary! I can still remember organising my one year blogoversary I can hardly believe it's been another year already! I'm going to start off with some stats, showing just how much my little blog has achieved in two years - it completely blows me away!
Followers:
Bloglovin: 992 followers (that's almost 1000!!)
GFC: 657 followers
Email:
117
subscribers
Linky: 67 followers
Facebook:

3,341 page likes
Twitter: 3,157 followers
Other Stats:
- According to blogger, I have had a total of 105,994 pageviews, in my two years of blogging!
- Last month, August 2014, has been my busiest month yet with a total of 8,584 pageviews!
- My most viewed post, holding the position since 2012, is my 100 Followers Giveaway!
- There have been 109 reviews published on Pieces of Whimsy. 107 by me, Myra, and 2 by my fabulous boyfriend, Jared!
- The top 3 countries my visitors come from are the United States, Russia, and Australia.
- This is my 1,020th published post!
Well that's all pretty exciting! I have had a fabulous two years of blogging and I am looking forward to many more years of it! I have received many fabulous books from publishers, authors, and other bloggers and I want to thank everyone who has supported me. My followers, authors, bloggers, publishers, friends, anyone who has visited my blog even once, and most of all I want to thank my boyfriend, Jared, for supporting me and Pieces of Whimsy 100% of the way. Thank you for helping me on my journey, I love you all!
To celebrate this awesome milestone Jared and I are offering up 3 giveaways with a total of 5 winners! See below on how to enter and I wish you all luck. :)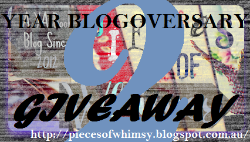 Giveaways!
Giveaway Rules:
- Giveaways are open internationally, with one swag pack open to Australian residents only. Check each rafflecopter for full terms and conditions.
- Must be at least 13 years of age to enter
- Giveaway runs from September 21st to October 5th
- Winners will be notified by email and names posted on my blog shortly after the giveaway ends
- Winners must reply to the email within 72 hours or prize will be redrawn (don't forget to check your spam!)
- Entries will be verified and those not following the rules will be deleted, so please make sure you enter correctly.
Giveaway #1 - 2x Swag Packs one open internationally and one open to Australian residents only (I'm not sure what the swag pack will include yet but there will be at least a couple of bookmarks and something else special!)
a Rafflecopter giveaway
Giveaway #2 - Winners choice of a $10 Amazon Gift Card or a book from the Book Depository up to $10
a Rafflecopter giveaway
Giveaway #3 - Two winners will receive their choice of one of the following books from the Book Depository.
- The Book Thief by Markus Zusak
- Northern Lights by Philip Pullman
- Mortal Engines by Philip Reeve
- Caleb's Crossing by Geraldine Brooks
- The Magician's Apprentice by Trudi Canavan
- The Maze Runner by James Dashner
- The Magician's Nephew by C.S. Lewis
- Pride and Prejudice by Jane Austen
a Rafflecopter giveaway