A themed tour with Prism Book Tours.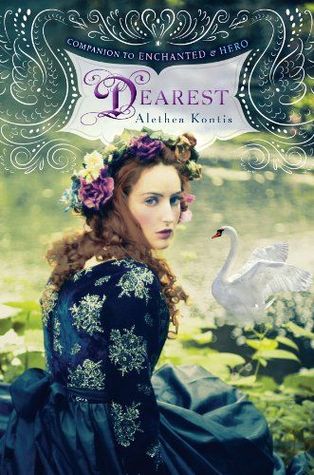 Dearest (Woodcutter Sisters #3) by Alethea Kontis
YA Fantasy
Published: 3rd February 2015 by HMH Books for Young Readers

"A fabulous fairy-tale mashup that deserves hordes of avid readers. Absolutely delectable." —Kirkus Reviews, starred review of award-winning series debut Enchanted

Readers met the Woodcutter sisters (named after the days of the week) in Enchanted and Hero. In this delightful third book, Alethea Kontis weaves together some fine-feathered fairy tales to focus on Friday Woodcutter, the kind and loving seamstress. When Friday stumbles upon seven sleeping brothers in her sister Sunday's palace, she takes one look at Tristan and knows he's her future. But the brothers are cursed to be swans by day. Can Friday's unique magic somehow break the spell?


Guest Post by Alethea Kontis
Goose Girl Intro
In The Uses of Enchantment, Bruno Bettelheim says that we have different favorite fairy tales at different stages of our lives. This speaks to who we are on a subconscious level, and where we are in our life's journey.
I first read "The Goose Girl" when I was eight years old, from the giant book of fairy tales my Memere bought me (no doubt in the hopes that it might keep me busy for a while). No matter how old I've become and what adventures I've undertaken, "The Goose Girl" has been my favorite fairy tale since that day.
I have no idea what that says about me.
"The Goose Girl" starts with a princess, whose sorceress mother is dying, so she cannot accompany her daughter to the kingdom where she is to meet the prince she will marry. "Take these drops of my blood," she says, and hands her daughter a handkerchief. "They will protect you."
The princess is accompanied by an evil serving maid and a talking horse named Falada. When the princess inevitably loses the three drops of blood, the maid forces her to switch places and never tell anyone under penalty of death. When they reach the kingdom, the real princess is sent out to tend the geese with Conrad...ONE OF MY FAVORITE FAIRY TALE CHARACTERS EVER.
I won't spoil the rest of the fairy tale for you...but I can tell you how THRILLED I was to introduce Conrad into the world of the Woodcutters. He has a brief cameo in Hero as the messenger who delivers some dire news to the family--writing that scene pleased me to no end. I was overjoyed to have him in my universe, but I couldn't tell you who he was until now!
Dearest opens with Conrad, without whom we would have no book, no adventure, and possibly no more Friday Woodcutter. I even wrote a closing chapter from Conrad's point of view, but it left so many threads to be picked up in the Book Four that my publisher made me cut it entirely.
I will be making Conrad's chapter available online via Kindle and Nook, so that fans of the series will still be able to read what happens. The chapter will be 99 cents--it's the least I can make it, but I have to charge something, or people will just be downloading it willy-nilly and spoiling the entire book for themselves and others. We certainly don't want that!!!
Other Books in the Series



Author Bio - Alethea Kontis


Alethea Kontis courtesy of Lumos Studio 2012
New York Times bestselling author Alethea Kontis is a princess, a fairy godmother, and a geek. She's known for screwing up the alphabet, scolding vampire hunters, and ranting about fairy tales on YouTube.
Her published works include: The Wonderland Alphabet (with Janet K. Lee), Diary of a Mad Scientist Garden Gnome (with Janet K. Lee), the AlphaOops series (with Bob Kolar), the Woodcutter Sisters fairy tale series, and The Dark-Hunter Companion (with Sherrilyn Kenyon). Her short fiction, essays, and poetry have appeared in a myriad of anthologies and magazines.
Her YA fairy tale novel, Enchanted, won the Gelett Burgess Children's Book Award in 2012 and the Garden State Teen Book Award i 2015. Enchanted was nominated for the Audie Award in 2013, and was selected for World Book Night in 2014. Both Enchanted and its sequel, Hero, were nominated for the Andre Norton Award.
Born in Burlington, Vermont, Alethea currently lives and writes in Florida, on the Space Coast. She makes the best baklava you've ever tasted and sleeps with a teddy bear named Charlie.
Check out Alethea's Road Tour HERE!
3 Woodcutter Sisters Prize Packs (signed copies of Enchanted, Hero, & Dearest)