A Question of Counsel by Archer Kay Leah
Adult Fantasy
Expected Publication: 27th May 2015
Life hasn't been easy for Aeley since she arrested her brother, and her role as a political leader leaves her feeling isolated and lonely. Days before her brother's trial, she meets Lira, a quiet and modest scribe who makes Aeley want more than just a professional relationship.
When she attends the trial and leaves with a marriage contract, Aeley doesn't know what to do. She must choose one of two brothers, marrying into a family she doesn't know. Then she discovers that Lira is part of the same family–a sister to Aeley's suitors and the family's disgrace. And not at all opposed to an intimate relationship.
Except random acts of violence against her people test Aeley's ability as a leader, and a web of lies and deceit threaten not only her chance at happiness, but her life…
Guest Post by Archer Kay Leah
The Best Part(s) About Writing Fantasy
I'm addicted to fantasy fiction.
There, I said it. I've been exposed. If there's anything to know about me as an author, it's that. When I write, most of my work comes up fantasy, whether it's a straight fantasy work or a romance where fantasy is bumped to the subgenre seat. I don't when or how it seeped into my brain and integrated into the core of who I am. I only know that it's my default, my literary home, and in some ways, my sanity. Now I feed the creative beast with new ideas on a regular basis, exploring worlds and situations where the unusual is normal.
So what keeps me coming back? What's the best part of writing fantasy – that stuff that makes it appealing and worthwhile?
In short, three words: creativity, diversity, and opportunity
Let's Break This Down, Yo
I'm a creative writer by nature: if I don't write stories, I feel like there's a void in my life and I tend to get a little grumpy.
I'm also compelled to write about all types of characters, places, and things. I refuse to accept a set of boundaries or expectations telling me I can write only about certain things (ie. Focusing primarily on white, heterosexual, cis male characters, which is something the fantasy genre has been criticized over). The world is full of colour, involves spectrums of all sorts, and involves different ideas and emotions. It's crazy-diverse – and that's just counting the human species! Factor in the rest and it's a "mind blown" situation.
This is where fantasy comes in, especially high fantasy, where secondary worlds are king. As a genre, it offers everything I could want as a writer. By its very nature, fantasy fiction is creative, but within that is the opportunity to explore everything and anything, anywhere, with any type of being. It allows us to take diversity that extra step: out of the real world and into worlds that could never be possible by what we understand to be the way our universe works. Ultimately, fantasy allows a writer to play a god (or nature, the universe, or any other creative/controlling entity): we have the opportunity to throw together a little of this, that, and the other thing to come up with something different.
And that means everything to me, because sometimes, the real world sucks.
Supreme Courts and United Nations Not Needed
A common misconception of fantasy fiction is that it doesn't have rules – writers can do whatever they want. In a way, there's some truth to that, but really, well-written fantasy has rules.
It just doesn't have to follow real world rules.
In fact, it can light a fire to those rules like last year's trash and allow for a world completely opposite to the one we live in. The trick is for the author to establish a set of rules and stick to them for that world. And therein lays one of the things I love most about fantasy: if you don't like the world you're in, write about one you love.
Like everyone else, I get frustrated with the state of current affairs. Injustice infuriates me. I'm a pretty liberal person who supports human rights and equality. I don't see any reason to treat anyone different based on gender identity, race, colour, sexual preference, or other traits, especially when they're biological. I get particularly irritated with the hate and misperceptions.
But thanks to the nature of fantasy, and being in a country where I can write things without being punished, I can do away with those issues in my works if I so choose. This is where something like my series, The Republic, is a good example. It's an LGBTQA romance series where gender identity and sexual preference aren't a big deal. People can be man, woman, transgender, whatever. When it comes to romantic relationships and marriages, it's up to the individuals. Their law system doesn't care. Their spirituality doesn't care. Sure, the republic has problems similar to those we experience in our society, but those two issues aren't on the agenda.
Not only does doing away with prejudice embrace diversity, but it opens up new opportunities. There are new stories to tell with characters that are unique in all sorts of ways. It feeds creativity. It also can allow for inclusion, because all types of people read, regardless of the things that make us different.
And Finally, Just Because I'm Weird…
Okay, so the other thing you should probably know about me is that I'm both left- and right-brained. At any given moment, I can be an artist or scientist. Sometimes I look at something and the scientific side takes over, launching me into some sort of physics, chemistry, or biology babble. I'm blame the wiring.
Having said that, there are times when I wonder what it would be like if things were different. What if some of our dormant genes actually coded for magic? What's the science behind fairies? What if non-animate objects became flesh-and-blood?
Thanks to fantasy (and science fiction), I can go there. It's a great way to balance the logical, scientific thoughts. Sometimes it's refreshing to look past the principles and theories and come up with stuff that doesn't fit. Basically, it's just nice to be totally unrealistic. Being weird is cool.
On that note, I'm going to wrap this up. Thanks to Pieces of Whimsy for having me and letting me share one of my passions. And huge thanks to all of you, readers! Without you, this just wouldn't be the same.
And thank you for sharing all that with us Archer Kay Leah! Fantasy rocks!
Author Bio - Archer Kay Leah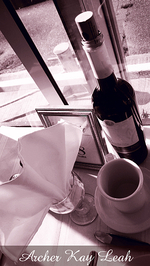 Archer Kay Leah was raised in Ontario, Canada, growing up in a port town at a time when it was starting to become more diverse, both visibly and vocally. Combined with the variety of interests found in Archer's family and the never-ending need to be creative, it has been this diversity that has inspired Archer's love of toying with characters and their relationships, exploring new experiences and crazy situations.
Archer started writing stories at age six and became "that kid" with their nose in the books and a pen in their hand, pursuing the challenges of writing novels at age thirteen and conquering the dread of poetry at fifteen. Archer most enjoys writing speculative fiction and is engaged in a very particular love affair with fantasy, especially when it is dark and emotionally charged.
When not reading and writing for work or play, Archer is a geek who has too many hobbies, keeping busy with other creative endeavors, a music addiction, and whatever else comes along, especially if it is in technological form. Archer lives in London, Ontario with a same-sex partner and their cat.
Giveaway
a Rafflecopter giveaway