A Question of Counsel by Archer Kay Leah
Adult Fantasy
Expected Publication: 27th May 2015
Life hasn't been easy for Aeley since she arrested her brother, and her role as a political leader leaves her feeling isolated and lonely. Days before her brother's trial, she meets Lira, a quiet and modest scribe who makes Aeley want more than just a professional relationship.
When she attends the trial and leaves with a marriage contract, Aeley doesn't know what to do. She must choose one of two brothers, marrying into a family she doesn't know. Then she discovers that Lira is part of the same family–a sister to Aeley's suitors and the family's disgrace. And not at all opposed to an intimate relationship.
Except random acts of violence against her people test Aeley's ability as a leader, and a web of lies and deceit threaten not only her chance at happiness, but her life…
Character Interview with Aeley Dahe and Lira Derossa

Q: Tell us a little about yourself. What should we know about you?

Aeley: I'm Aeley Dahe, Tract Steward of Gailarin in the Republic of Kattal. I was raised by my father, the late Korre Dahe, the Tract Steward before me. Much of my life has been spent training with our soldiers and helping my father run the region. But before we get underway with more questions, I want to make it clear: we're not going to talk about my brother, Allon. Let's keep it friendly.
Lira: I'm Lira Derossa, Aeley's scribe and almost-wife. I suppose you could say I'm rather opinionated. Mostly I tend to say things I really shouldn't. And I bite… hard. Also, if you're taking requests, let's avoid talking about my brothers, Emon and Ryler.

Q: First impression of each other?

Aeley: Beautiful and really, really quiet. Intriguing in a good way.
Lira: Tough and willing to stand up for what she believes in, even if it means confrontation. Korre absolutely adored her. Now I know why.

Q: Describe each other in 3 words.

Aeley: Beautiful, bold, unselfish.
Lira: Dutiful, protective, liberating.

Q: Favorite weapon of choice?

Aeley: Anything that can nick, stab, draw blood.
Lira: Words. And Aeley, especially after she's come from seeing our brothers. Considering what she did to the guard–
Aeley: And the question is answered. I don't want to think about it anymore–although he deserved it. Ah, stop making me remember! Thanks, Lira.
Lira: Always.

Q: What do you think of the author? And be honest!

Aeley: *snort*
Lira: That's not an answer.
Aeley: Sure it is. Just look at what ended up on the page. Honestly. I really don't drink that much, and Mayr's not half as Goddess-blessed as he seems. I can tell you stories about how he–
Lira: I'd say the author represented our story fairly. Though I could've done without sharing our most intimate moments.
Aeley: Really? I loved that most.
Lira: You would.
Aeley: Absolutely. Although I'd like to thank the author for not being as cruel to us as she is to others. I still have full movement of my extremities. I think we may have been lucky.
Lira: Speak for yourself. Now everyone thinks I can't use even a simple dining knife.

Q: Seriously, Lira, what really happened when you tried using a sword?

Aeley: *laughs so hard, she falls out of her chair*
Lira: It's not that funny. I'm sorry. Please ignore her. Just… New question, please.

Q: Ever find out who stashed the booze?

Aeley: No!
Lira: Though it reappeared. Perhaps a little mysteriously, but really…
Aeley: There's only one answer: Mayr. I should toss him from the Guard faster than I can unlace your bodice.

Q: How do you see your future?

Lira: Better than the past. I wouldn't trade this for anything I left behind, even on the bad days.
Aeley: Good to know – I don't plan on giving you up, Lira. Not ever.




Author Bio - Archer Kay Leah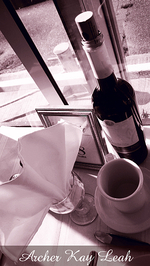 Archer Kay Leah was raised in Ontario, Canada, growing up in a port town at a time when it was starting to become more diverse, both visibly and vocally. Combined with the variety of interests found in Archer's family and the never-ending need to be creative, it has been this diversity that has inspired Archer's love of toying with characters and their relationships, exploring new experiences and crazy situations.
Archer started writing stories at age six and became "that kid" with their nose in the books and a pen in their hand, pursuing the challenges of writing novels at age thirteen and conquering the dread of poetry at fifteen. Archer most enjoys writing speculative fiction and is engaged in a very particular love affair with fantasy, especially when it is dark and emotionally charged.
When not reading and writing for work or play, Archer is a geek who has too many hobbies, keeping busy with other creative endeavors, a music addiction, and whatever else comes along, especially if it is in technological form. Archer lives in London, Ontario with a same-sex partner and their cat.